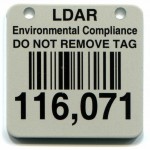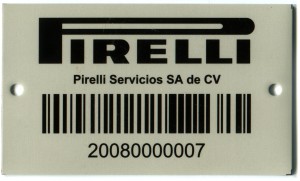 Teflon® coated Photosensitive Aluminum Tags and Plates combine the high temperature/UV resistance and dimensional stability of aluminum with the non-reactive, non-stick characteristics of Teflon®.
Text, logos, and symbols are sealed into Photosensitive Aluminum then fused with a coating of Teflon®. The additional layer of Teflon® increases the tag's resistance to harsh chemicals containing acids and bases.
Metalphoto® Tags with Teflon® are available with rivet holes for mechanical attachment, pressure sensitive acrylic adhesive or with both adhesive and rivet holes. Available in thicknesses of .003", .005", .008", .012", .020", 0.32" and .063". (Note: Rivet holes are not recommended for thicknesses <020".) LSE (low surface energy) and HSE (high surface energy) adhesives are available.
Teflon® coated Metalphoto® Tags and Dataplates are custom die cut to customer specifications. Standard and rush production times on prototypes as well as low- and mid-volume orders.