Stainless steel is an excellent material choice for tags and plates that need to be durable and maintain longevity. Two options for stainless steel are "Etch" and "Etch and Fill".
Shown below is an etched stainless steel plate. Etching is a process in which chemicals remove layers of stainless steel.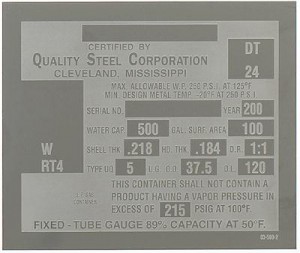 Shown below is a stainless steel etched plate with raised graphics and green enamel filled background.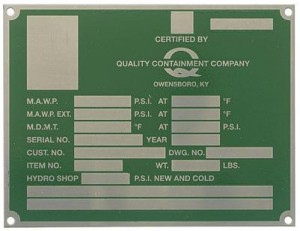 Drake stainless steel applications are available in a range of different gauges: 8 gauge to 26 gauge with special thicknesses available upon request. Available alloys are 304 and 316 for the most demanding of conditions.
Contact Liz@drake.com for a consultation for your oil and gas field labeling needs. Quotes are free and are provided in 24 hours. 512.610.1161.
Samples will be available at our booth for the 2014 Offshore Technology Conference at Reliant Park in Houston May 5-8. Drake Industries will be in booth 6224.
We can bring specific samples of our work for you to the show. We can also be reached at 512.251.2231 OR Quotes@drake.com.