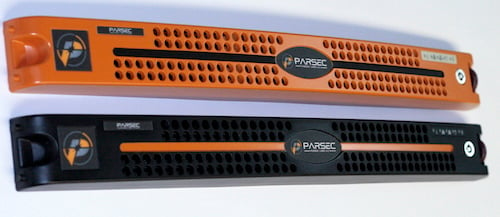 Typically our order minimum for bezel rebranding is 25 units be we can accomodate prototype orders as well.
Shown above are two Supermicro bezels that we prototyped recently. The customer had two ideas for custom painted faceplates (server bezels) and wanted to see each idea before commiting to one design. These are both Custom PMS matched bezels meaning that the orange paint was matched to a PMS shade given by the customer. A contrasting "pin striping" effect was added to the horizontal grooves of each bezel. A set of three custom logo badges or medallions were added to each bezel. Badges can be manufactured as "flat" or "domed" with polyurethane (also known as 3D labels). Permanent acrylic adhesive is used for these badges.
Manufacturing time for these prototypes was 2 - 3 weeks after receipt of the bezels and approval of the badge art.
Prototype bezels are easy to produce and are effective marketing tools. Contact Chris at drake.com 512.251.2231 to discuss your rebranding project. Drake can rebrand any server/bezel to your specifications.