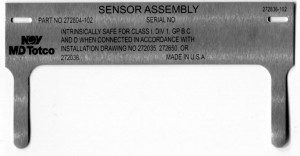 Aluminum is an excellent choice for the Sensor Assembly shown above. It is lightweight, durable, and easy to cut. Process used is Metalphoto®.
The Stainless Steel Tag with Rivet Holes shown below is etch and fill. Stainless steel is another good choice for a tags and plates that are exposed to extreme weather and caustic chemicals.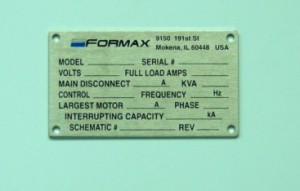 The polycarbonate used in the digitally printed logo label, below, is also a material used when extreme weather and exposure to chemicals is expected.

Contact Drake Industries for your custom durable tag and plate orders. We look forward to speaking with you about your project. 800.531.5073 quotes@drake.com
Need aluminum and stainless steel plate and tag samples? Visit Drake at the 2014 Offshore Technology Conference at Reliant Park in Houston May 5-8. Drake Industries will be in booth 6224.
We can bring specific samples of our work for you to the show. We can also be reached at 512.251.2231. We look forward to seeing you at the OTC.