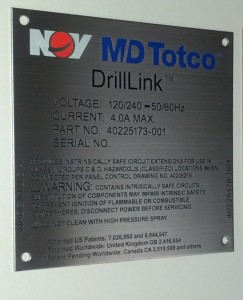 Shown above, Stainless Steel Tag with Rivet Holes. This tag displays serial number and voltage information, the company name and logo are in color. This process is called an Epoxy Fill for Stainless Steel and is effective in the field because it can withstand harsh conditions.
Stainless steel is an excellent material choice for tags and plates that need to be durable and maintain longevity.
Anondized Aluminum is also an excellent choice for tags and plates for use on industrial equipment that need to withstand adverse conditions and exposure to chemicals like diesel fuel and caustic soda. Shown below is a small sign that is silk screened anodized aluminum.
Contact Liz at drake.com for a consultation for your oil and gas field labeling needs. Quotes are free and are provided in 24 hours. 512.610.1161.