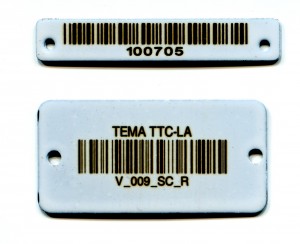 Ceramic Coated Stainless Steel Barcode Tags can withstand heavy weather, exposure to solvents, and other harsh chemicals. These plates and tags can resist temperatures in excess of 1000 degrees Fahrenheit and exposure to salt spray without corroding. Stainless Steel Ceramic Coated Barcoded Tags are an excellent choice for offshore oil & gas platforms due to their durability and hard-wearing nature.
A ceramic overcoat is bonded to 26 gauge stainless steel (304 or 316 alloy). Tabs for welding and rivet holes for mechanical fastening are available.
These tags and dataplates are manufactured to resist the harshest chemicals, including
Caustic soda/Sodium hydroxide
Diesel fuel
Rig soap
Sulfuric acid
Toluene
Standard barcode symbols are supported as well as 2D Data Matrix and human readable text.
Barcoded Tags and Plates are custom die cut to customer specifications. Standard and rush production times are available on prototypes as well as low- and mid-volume orders.