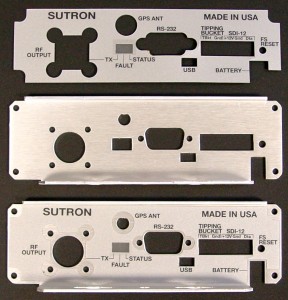 Pictured above is a polycarbonate graphic overlay (top). In the middle you see the aluminum plate that it is made for and on the bottom of the image the overlay has been affixed to the plate.
Below left is another graphic overlay. The aluminum panel it is made for is in the center and to the right the overlay has been affixed to the plate.
Polycarbonate is durable and light weight. An advantage to using polycarbonate for graphic panel overlays or instrumentation panels is that windows can be utilized. Holes are complete openings in an overlay (think of a rivet hole) whereas Windows have a clear overlay, like a pane of glass in a window. (Window pictured above under "Sutron 9210 XLite"). Windows are needed for dials and other diplays.
Drake Labels is available to perform assembly services. Many of our clients send their aluminum panels to us. After we manufacture the overlay we will affix it to a metal plate/panel at our customer's request. Your graphic panel and plate are then ready for your project right out of the box.
Contact Drake for a no obligation quote provided in 24 hours.